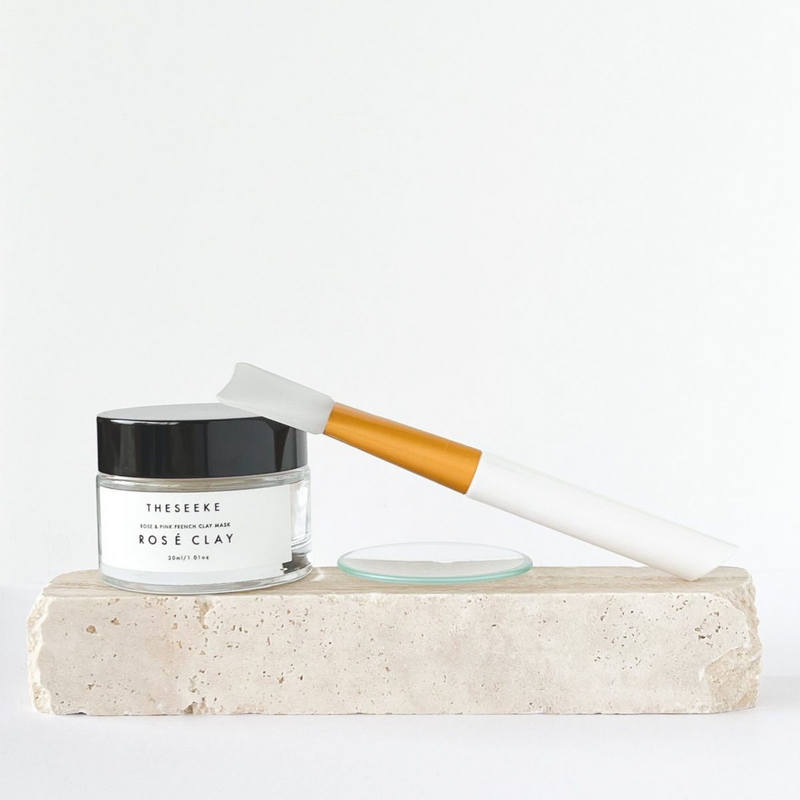 This clay mask is a clever multi-tasker. Australian ivory clay & pink French Argiletz clay gently draw out toxins without drying the skin. Pink French clay & organic rosehip granules gently exfoliate. Calendula powder & organic rose powder refine pores & soothe damaged skin.
Clay mask kit includes :
Rose Clay mask 
Silicone mask brush
Glass mixing dish. 
ROSE & FRENCH PINK CLAY MASK KIT
Mix Rose Elixir to create a moisturising exfoliator
Customise your mask to your individual skin needs
Mix a small amount of clay with hydration spray, tea or water. Apply to skin, allow to dry & rinse with warm water. To use as a gentle exfoliator, mix a small amount with restoring multi use beauty oil or water, gently rub on face, neck & chest in a circular motion for up to 3 minutes & rinse.
Exfoliate once or twice a week depending on your skin type, less for dry skin, more for oily. It's important to pay attention to your skin as your needs might change based on the seasons & humidity levels. Always be gentle & careful not to dry your skin out.
Featured Ingredients: 
Ivory Australian Clay is soft and silky for sensitive skin and is the most gentle out of all the clays. It is very mild and nurturing.
French Pink Clay can be used to cleanse and detoxify the skin, remove dead skin cells and create and overall refreshed appearance.
Organic Rosehip granules gently exfoliate. 
Calendula has wonderful skin-soothing properties and improves the appearance skin.